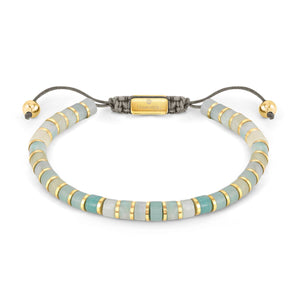 Natural stone bracelets with gold PVD stainless steel vintage effect details on adjustable cord. This Amazonite bracelet, each sphere with its marbled pattern, is part of the Instinct Stone Collection.
Length: 21.5cm shorten to: 15cm.
Width: 0.35 x 0.6cm - 0.1x0.6cm
Made in PRC
Due to the use of natural stones, bracelet colour may vary slightly from image.